Het verhaal van de vrouw uit Bath.
Inleiding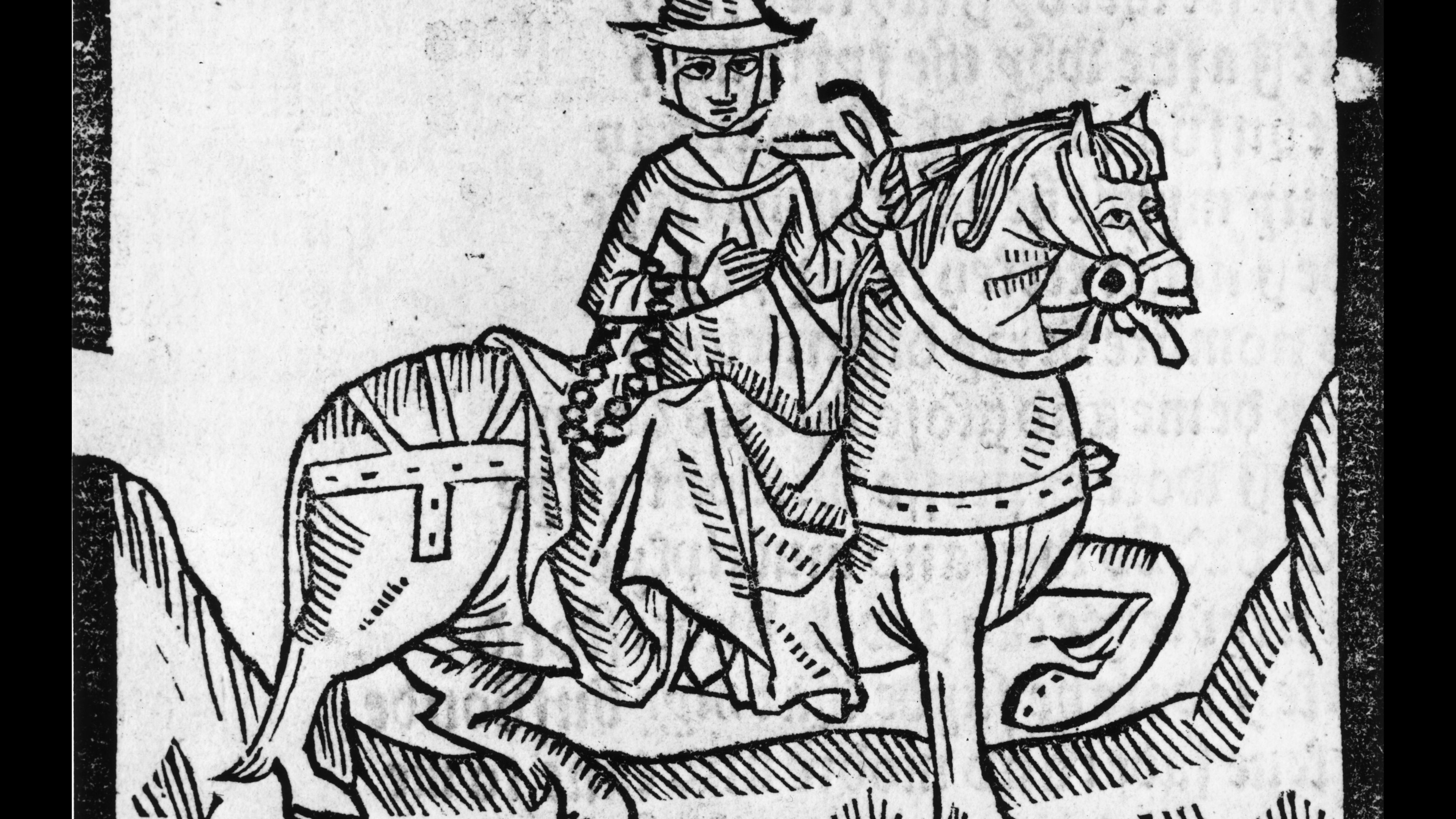 Een beknopte inleiding op de Canterbury Tales is in een eerder verschenen commentaar in februari van dit jaar op mijn blog te vinden. Het achtergrondverhaal op Wikipedia, is veel diepgaander, beter en uitgebreider. In de komende weken zullen naast dit eerste verhaal van de Baljuw en het tweede verhaal van de Vrouw van Bath, nog vier verhalen uit de Canterbury Tales samengevat op mijn blog worden gezet. Uit al deze verhalen blijkt dat Chaucer zich op volksverhalen baseerde bij het schrijven van zijn gedichten. De dichtvorm was een manier om een verhaal beter te onthouden, en de vertellers zeggen dit ook met zekere regelmaat. Behalve de Reinard de Vos kende hij ook de Jeha– (Nasreddin–) verhalen, net als Rabelais, omdat er vaak aan wordt gerefereerd. De bron waaruit beide schrijvers putten lijkt verloren te zijn gegaan. Ik denk dat beide schrijvers een ding gemeen hebben en dat we daar de gezamenlijke bron kunnen terugvinden: Het Vaticaan, of nauwkeuriger gezegd: De bibliotheek van Het Vaticaan. Zowel Rabelais als Chaucer verbleven in Rome en maakten hun opwachting bij de paus. Maar waarom hebben anderen geen gebruik van dit materiaal gemaakt? Waarschijnlijk is de tekst in een taal, die niet voor iedereen toegankelijk is of waarop een soort taboe rust: het Arabisch. En ik denk dat het de moeite waard zou zijn om er eens een kijkje te gaan nemen om deze Arabische bron van volksverhalen op te zoeken.
De oorspronkelijke tekst, in oud Engels.
"The Prologe of the Wyves Tale of Bathe.
Experience, though noon auctoritee
Were in this world, were right y-nough to me
To speke of wo that is in mariage;
For, lordinges, sith I twelf yeer was of age,
Thonked be god that is eterne on lyve,
Housbondes at chirche-dore I have had fyve;
For I so ofte have y–wedded be;
And alle were worthy men in hir degree."
Vertaling in modern Engels
"If there were no authority on earth
Except experience, mine,for what it′s worth,
And that′s enough for me, all goes to show
That marriage is a misery and a woe;
For let me say, if I may make so bold,
My lords, since when I was but twelve years old,
Thanks be to God Eternal evermore,
Five husbands have I had at the church door;
Yes, it′s a fact I have had so many,
All worthy in their way, as good as any."
De oorspronkelijke tekst, in oud Engels.
"Sith ye so preche of Iobes pacience.
Suffreth alwey, sin ye so wel can preche;
And but ye do, certain we shal yow teche
That it is fair to have a wyf in pees.
Oon of us two moste bowen, doutelees;
And sith a man is more resonable
Than womman is, ye moste been suffrable.
What eyleth yow to grucche thus and grone?
Is it for ye wolde have my queynte allone?
Why taak it al, lo, have it every-deel;
Peter! I shrewe yow but ye love it weel!"
Vertaling
"You′re fond of preaching patience out of Job,
And so be patient; practise what you preach,
And if you don′t, my dear, we′ll have to teach
You that it′s nice to have a quiet life.
One of us must be master, man or wife,
And since a man′s more reasonable, he
Should be the patient one, you must agree.
'What ails you, man, to grumble so and groan?
Just that you want my what–not all your own?
Why, take it all, man, take it, every bit!
St Peter, what a love you have for it.'"
De oorspronkelijke tekst, in oud Engels.
"Swiche maner wordes hadde we on honde.
Now wol I speken of my fourthe housbonde.
My fourthe housbonde was a revelour,
This is to seyn, he hadde a paramour;
And I was yong and ful of ragerye,
Stiborn and strong, and Ioly as a pye.
Wel coude I daunce to an harpe smale,
And singe, y–wis, as any nightingale,
Whan I had dronke a draughte of swete wyn."
Vertaling
"That′s how my first three husbands were undone.
Now let me tell you of my last but one.
He was a reveller, was number four;
That is to say he kept a paramour.
Young, strong and stubborn, I was full of rage
And jolly as a magpie in a cage.
Play me the harp and I would dance and sing,
Believe me, like a nightingale in spring,
If I had had a draught of sweetened wine."
De oorspronkelijke tekst, in oud Engels.
"But now to purpos, why I tolde thee
That I was beten for a book, pardee.
Up–on a night Iankin, that was our syre,
Redde on his book, as he sat by the fyre,
Of Eva first, that, for hir wikkednesse,
Was al mankinde broght to wrecchednesse,
For which that Iesu Crist him–self was slayn,
That boghte us with his herte–blood agayn.
Lo, here expres of womman may ye finde,
That womman was the los of al mankinde.
Tho redde he me how Sampson loste his heres,
Slepinge, his lemman kitte hem with hir sheres;
Thurgh whiche tresoun loste he bothe his yën.
Tho redde he me, if that I shal nat lyen,
Of Hercules and of his Dianyre,
That caused him to sette himself a–fyre.
No–thing forgat he the penaunce and wo
That Socrates had with hise wyves two;
How Xantippa caste pisse up–on his heed;
This sely man sat stille, as he were deed;
He wyped his heed, namore dorste he seyn
But 'er that thonder stinte, comth a reyn.'"
Vertaling
"Now to my purpose as I told you; look
Here′s how got a beating for a book.
One evening Johnny, glowering with ire,
sat with his book and read it by the fire.
And first he read of Eve whose wickedness
Brought all mankind to sorrow and distress,
Root–cause why Jesus Christ Himself was slain
And gave His blood to buy us back again.
Aye, there′s the text where you expressly find
Tha woman brought the loss of all mankind.
He read me then how Samson as he slept
was shorn of all his hair by her he kept,
and by that treachery Samson lost his eyes.
And then he read me, if I tell no lies,
All about Hercules and Deianire;
She tricked him into setting hmself on fire.
He left out nothing of the miseries
Occasioned by his wives to Socrates.
Xantippe poured a piss–pot on his head.
The silly man sat still, as he were dead,
wiping his head, but dared no more complain
Than say: 'Ere thunder stops, down comes the rain.'"
De oorspronkelijke tekst, in oud Engels.
"Who wolde wenen, or who wolde suppose
The wo that in myn herte was, and pyne?
And whan I saugh he wolde never fyne
To reden on this cursed book al night,
Al sodeynly three leves have I plight
Out of his book, right as he radde, and eke,
I with my fist so took him on the cheke,
That in our fyr he fil bakward adoun.
And he up-–his fist he smoot me on the heed,
That in the floor I lay as I were deed.
And when he saugh how stille that I lay,
He was agast, and wolde han fled his way,
Til atte laste out of my swogh I breyde:
'O! hastow slayn me, false theef?' I seyde,
'And for my land thus hastow mordred me?
Er I be deed, yet wol I kisse thee.'
And neer he cam, and kneled faire adoun,
And seyde, 'dere suster Alisoun,
As help me god, I shal thee never smyte;
That I have doon, it is thy–self to wyte.
Foryeve it me, and that I thee biseke'–
And yet eft–sones I hitte him on the cheke,
And seyde, 'theef, thus muchel am I wreke;
Now wol I dye, I may no lenger speke.'"
Vertaling
"Who could imagine, who could figure out
the torture in my heart? I reached the top
And when I saw that he would never stop
Reading this cursed book, all night no doubt,
I suddenly grabbed and tore three pages out
Where he was reading, at the very place,
And fisted such a buffet in his face
That backwards down into our fire he fell.
The like a maddened lion, with a yell
He started up and smote me on the head,
and down I fell upon the floor for dead.
And when he saw how motionless I lay
He was aghast and would have fled away
But in the end I started to come to.
'Oh have you murdered me, you robber, you,
To get my land?' I said. 'Was that the game?
Before I′m dead I′ll kiss you all the same.'
He came up close and kneeling gently down
He said, 'My love, my dearest Alison,
So help me God, I never again will hit
You, love; and if I did, you asked for it.
Forgive me!' But for all he was so meek,
I up at once and smote him on the cheek
And said, 'Take that to level up the score!
Now let me die, I can′t speak any more.'"
(6)
Volgens Bertrand Russell leed Socrates aan een soort kataleptische trances (katatonie). Hij haalt de volgende scène uit de Symposium van Xenefon aan:

Op een morgen dacht hij na over een moeilijkheid die hij niet kon oplossen. Hij wilde het niet opgeven, maar bleef er van de vroege ochtend tot het middaguur over denken. Onbeweeglijk bleef hij, diep in gedachten verzonken, staan. Omstreeks het middaguur maakte iemand daarover een opmerking, en al vlug deed het gerucht de ronde door de verbaasde menigte, dat Sokrates sinds de vroege ochtend over iets had staan denken. ′s Avonds, na het avondmaal, brachten een paar Ioniërs (want het was zomer, niet winter) hun matten naar buiten en gingen daar liggen om te zien of hij de gehele nacht zou blijven staan. En inderdaad bleef hij zo staan tot de volgende ochtend; bij het aanbreken van de dageraad bad hij tot de zon en liep verder.
Op mijn blog van vorige week heb ik nogal stellig beweerd, dat de scène van het jongetje dat de hete soep op het hoofd van Jeha kiepert, erin was gelast bij het herschrijven van de verhaaltjes voor kinderen. Tenslotte in geen van de vorige versies zat deze scène! Weer blijkt hoe voorzichtig je moet zijn met het trekken van conclusies op basis van indirect bewijsmateriaal. Als we bovenstaand citaat over Sokrates als eerste bron voor al deze verhaaltjes nemen (wat niet valt te bewijzen) dan blijkt dat juist die scène er van het begin af aan in heeft gezeten. En aangezien het vorige Jeha verhaal Egyptisch is en Egypte altijd in de Oudheid een nauwe band met Griekenland onderhield, zou het heel goed kunnen zijn dat in de Egyptische variant meer uit de oorspronkelijke tekst bewaard is gebleven dan in de andere varianten.
Van belang is natuurlijk dat het merkwaardige stokstijf stil zitten van de hoofdpersoon een onverwachte verklaring krijgt: het is niet zozeer koppigheid waaraan de mannetjes lijden, maar katatonie! Deze interpretatie was voor mij een volslagen verrassing en had ik niet zien aankomen. Ook de overeenkomst van dit Koppigheids–verhaal met het verhaal van de Maaltijd waarop Jeha (Nasreddin) zijn tulband en kleren te eten geeft, omdat die hem de toegang tot deelname eraan hadden verleend, krijgt een andere betekenis. Het gaat niet zomaar om een maaltijd, maar waarschijnlijk om de beroemdste maaltijd in de wereldgeschiedenis, Het Symposium, waar Sokrates aanzat met zijn vrienden zoals Plato, Xenefon, Alcibiades en Aristofanes. Afgezien van een maaltijd die later nog beroemder zou worden: het Laatste Avondmaal van Jezus met zijn discipelen. Maar misschien is het verschil tussen de beide maaltijden minder groot dan je denkt. Aan die laatste maaltijd kon iedereen deelnemen en was er geen dress–code. Was er een dress–code voor het Symposium, zodat alleen de Atheense adel eraan kon deelnemen?
Ook zou de rol van de barbier uit de Perzische variant een onverwachte uitleg kunnen mee krijgen. Aristofanes had op het Symposium verteld dat er oorspronkelijk drie geslachten waren: mannen, vrouwen en man–vrouwen, die hij manwijven noemde. De rol van de barbier in de Perzische variant doet daaraan denken: hij maakt van een man een Man–Vrouw, de derde sekse. Een grap in de trant van Aristofanes.
Dat het verhaal over Sokrates zoveel licht werpt op de andere zes varianten, wil niet zeggen dat Xenefon of Plato de bron is van het eigenlijke verhaal waaruit de verschillende varianten ontstonden. Het is waarschijnlijker dat een toneelgezelschap op Romeinse wijze improviseerde op filosofische teksten, wat leidde door de tijd heen tot verschillende varianten. Dat deden ze op basis van een patroon. En dat leidde weer tot de eenvormigheid van de verschillende varianten. Hoe het ook zij, deze grappige varianten blijken direct verband te houden met de Klassieke Oudheid, of het nu Diogenes, Plato, Xenefon of Aristofanes betreft. Ik blijf denken dat de grappen ouder zijn dan deze Grieken. En dat deze Grieken deze volksverhaaltjes kenden en gebruikten om aansluiting te vinden bij hun publiek. Later zetten rondtrekkende toneelgezelschappen tot in de tijd van Molière aan toe deze Grieks–Romeinse traditie voort. Maar kun je dat bewijzen? Misschien, in de bibliotheek van Het Vaticaan?